Jika anda pernah dengar atau menggunakan ESP8266, ESP32 pula adalah seperti abangnya. Sebagai abang, mestilah dia mempunyai kelebihan-kelebihan tertentu. ESP32 adalah cip mikropengawal (SoC) kos rendah dilengkapi dengan WiFi dan Bluetooth terbina yang dihasilkan oleh syarikat Espressif.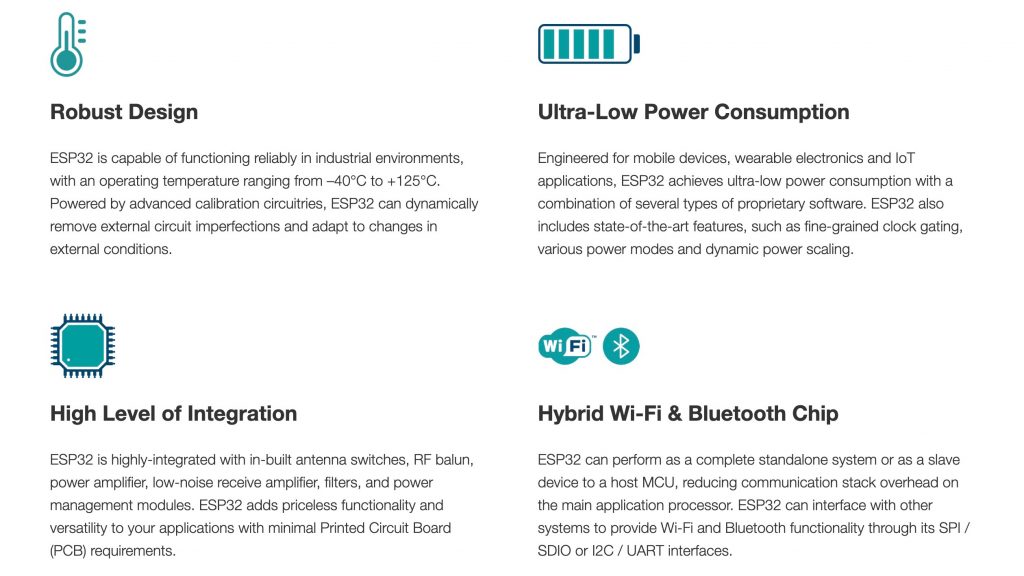 Berikut adalah ciri-ciri ESP32:
ESP32-WROOM-32 contains two low-power Xtensa® 32-bit LX6 microprocessors
448 KBytes ROM for booting and core functions
520 KBytes on-chip SRAM
8 KBytes SRAM in RTC SLOW
8 KBytes SRAM in RTC FAST
1 Kbit of EFUSE, 256 bits MAC
WiFi: 802.11 b/g/n/d/e/i/k/r (802.11n up to 150 Mbps)
Bluetooth v4.2 BR/EDR and BLE specification
Wi-Fi mode Station/softAP/SoftAP+station/P2P
Security WPA/WPA2/WPA2-Enterprise/WPS
Encryption AES/RSA/ECC/SHA
IPv4, IPv6, SSL, TCP/UDP/HTTP/FTP/MQTT
Interfaces: SD-card, UART, SPI, SDIO, I2C, LED PWM, Motor PWM, I2S , IR, GPIO, capacitive touch sensor, ADC, DAC, Hall sensor, temperature sensor
Operating temperature -40 + 85C
Operating voltate: 2.2-3.6V
Consumption: 80 mA typ
Dimensions: 18 mm x 20 mm x 3 mm
Untuk lebih terperinci, anda boleh rujuk pada lembaran data ESP32.
---
Terima kasih kerana menjadikan blog ini sebagai rujukan. Saya ingin memohon jasa baik anda semua untuk Subscribe channel Youtube saya di https://www.youtube.com/c/idriszmy 🙏